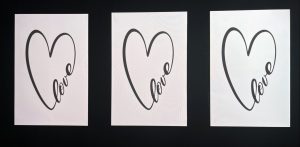 Projection Mapping Tx - (Texas) evolved and officially launched on 1 September 2022, from our original projection mapping company, Cake Mapping SA, which featured projection mapping on cakes. With creativity and innovation, our projection mapping expanded to highlight our newest looks for you, the Floating Canvas Wall and Floating Canvas Collage.
Projection mapping is a method of projecting text, your images or video onto a canvas. Projection Mapping Tx features various unique styles (unlike a traditional projector/screen or monitors) for your special day/event: the Floating Canvas Wall – three (3) large canvases; or the Floating Canvas Collage – six (6) various sized canvases, with four (4) layout options to choose from.
Transform your special event, such as - weddings, birthdays, anniversaries, corporate events/parties, school events or celebrations, to include the celebration of life, by projection mapping your images on our Floating Canvas Wall or Floating Canvas Collage, so they are showcased like never seen before.
View Projection Mapping Tx samples on our Pinterest site and on the boards linked below. Keep in mind, the photo gives you a beautiful overview and concept of the Floating Canvas designs; however, seeing it in person will totally amaze you and your guests, as the images transition throughout your event.
View more details about cake mapping at cakemappingsa.com.
Packages (HD Quality Images and Videos Required)
All Packages Include
All packages Include
Consultation – floating canvas wall design
Creation of mapped scenes (images or videos)
Set-up and mapping of design at event
Projector(s), stand(s) and skirting
Canvas frames, hanging structure and b/w drapery
On-site technician for event (4 hrs.)
Additional Time ($ 150.00/hr.)
Pkg. 1: Floating Wall Canvas (4 hrs.)
(3)24x36 inch canvases
15 scenes
$950.00
Pkg. 2: Floating Canvas Collage (4 hrs.)
(6) various canvas sizes (24x36, 18x24, 16x20, 12x16)

choice of (1) pre-established design option

(30) scenes
$1550.00
Packages (HD Quality Images and Videos Required)
Accent Canvases & Upgrades
Share the Experience
Accent Canvases & Upgrades
Dual Accent Canvases on Totems
(2) 11 x 14-inch canvas
(2) totems, featuring (1) canvas with easel, per totem

choice of black or white totem covering
*backdrop not included*

(5) scenes
$750.00
Backdrop
Based on available colors
$350.00
Travel Charge
(> 30 miles from San Antonio city limit)
$2.00/mile
Projection Mapping Rush Fees
Rush Fees are incurred beginning at (3) three weeks or 21 days before your event.
3 weeks or 21 days out from event - ($ 300.00)
2 weeks or 14 days out from event - ($ 600.00)
1 week or 7 days out from event - ($ 900.00)
Accent Canvases & Upgrades