Cake Mapping Specifics (click to open/close)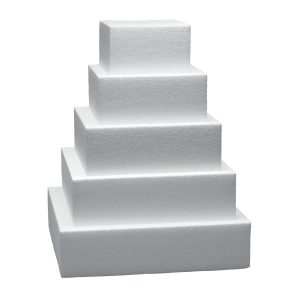 Cake Mapping is a method of projecting text, images or video on to layers of a cake. The image can be mapped to cover all tiers of the cake, specific tiers, specific areas on a tier or side layer. In most instances, the cake is multi-tiered, square with (4) four or more layers and it has a plain white exterior.
There are suggested sizes to each tier for optimal viewing of projected footage. Small cakes have less of a display area to show content and the message and detail get lost. Round cakes are possible to map too; however, more work is required due to the curve on each rounded tier vs a finite edge on a square cake. Cost is incurred for more time to map the endless curves and for a second projector to combat the 180 degrees of a round cake that narrows the angle to two 90-degree angles. Because the rounded angles cause issues with some images, square cake is the method for best practice and visual success.
The cake structure can be real, partially real or fake/dummy. For optics, the top tier is real for the purpose of cutting a slice at a wedding or special event. The lower layers are fake or dummy layers made out of foam to support the structure size. These fake layers are covered to match the real layer exterior.
It is for this reason, we work with a specific baker who understands the mapping process and can advise for the best structure of the mapped cake and additional cake to be served to guests.
Cake Mapping Options
One, Two or Four Sides
Pkg. 4: Four (4) Sides (4 hrs.)
Packages
All packages Include
Consultation - cake mapping design
Creation of cake mapping footage (up to 5 layered cake)
Set-up and mapping of your cake map design at event
Projector stand and skirting
Cake mapping technician present for event (4 hrs.)
Additional Time ($ 150.00/hr.)
Pkg. 1: One (1) Side (4 hrs.)
Four (4) single images or animations
$1695.00
Pkg. 2: Two (2) Sides (4 hrs.)
Six (6) single images or animations
Plus, one (1) multi-layer image
$2450.00
Pkg. 3: Four (4) Sides (4 hrs.)
Eight (8) single images or animations
Plus, two (2) multi-layer images
$3150.00
Pkg. 4: Four (4) Sides (4 hrs.)
Twelve (12) single images or animations
Plus, four (4) multi-layer images
Plus one (1) animated scripted name
$4750.00
Customized and Personalization
Make it Your Own
Cake Mapping Additional Fees
Additional Single Image, Photo or Animation
Cost per image, photo or animation
*Image editing/touch-ups incur additional $35/hr. fee*
$150.00
Additional Multi-Layer Images
My Side, Photo Reel or Photo-Montague
Optional animated scripted name(s)
$475.00
Brighter Lumen Projector
5,000 lumen projector vs. 3,000 lumen projector
Recommended for daytime and/or brightly lit room
$350.00 ea.
Travel Charge
(> 30 miles from San Antonio city limit)
$2.00/mile
Cake Mapping Additional Fees
Rush Fees are incurred beginning at (3) three weeks or 21 days before your event.
3 weeks or 21 days out from event - ($ 300.00)
2 weeks or 14 days out from event - ($ 600.00)
1 week or 7 days out from event - ($ 900.00)